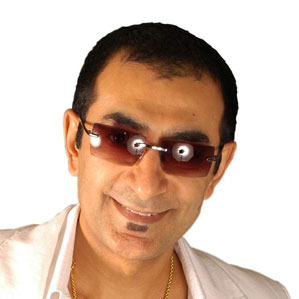 Shin is one of the most versatile singer/performers on the Asian music scene outside of India and has a track record second to none. He sings in Punjabi, Hindi, Urdu and English and has recorded albums and songs in all these languages.
In 1988, 1996 and 2001 he was awarded best male vocalist and has collected numerous awards for best song and best album. Shin formed the Bhangra band DCS in 1983 and since then have been touring the world with their unique sounds. DCS have been crowned best band in 1996, 1998 and 2005 at the Movie Awards, Pop Awards and UK AMA Awards and Shin received the Outstanding Achievement Award in 2008 at the UK AMA Awards.
Shin's passion for performing and his professional attitude and approach to his work are the secret to his successful 25 year long career, which is still growing stronger by the day. He is constantly pushing boundaries and exploring new ventures. Apart from his DCS, for the last two years he has been the chief judge on the highly successful TV talent show Brit Asia Superstar. He has also found major success in Musical Theatre, playing the lead role in the first ever Bhangra Musical Theatre piece Britain's got Bhangra.
More recently he has been branching out into the Bollywood scene singing Hindi songs and has taken part in a few tribute concerts and weddings. Asian Entertainments have exclusive packages for your special occasion, whether you would like a solo performance for your first dance or a full Band call us and make your event a memorable one.