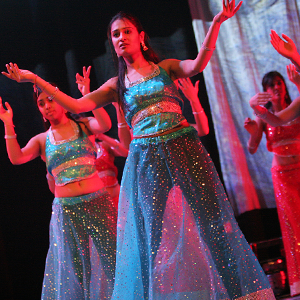 This elite group of dancers have been performing since 2006 providing entertainment across the UK and overseas. Among their dancers they have 4 UK Boogie Woogie Champions, and in 2008 performed at the royal opening of the Curve Theatre in Leicester in front of HM The Queen.
This troop of dancers have trained across dance forms which includes Bollywood, Hip Hop and a classical Indian dance. This gives the dancers a beautiful blend of movement vocabulary which enhances and pushes the boundary of Bollywood choreography. The range of performance tracks which can be selected is therefore very diverse. The repertoire can include very Kitsch kind of Bollywood (e.g Ishq Kamina, Aaja Nachele, Nimbooda), Semi-Classical Bollywood (e.g. Jiya Jale, O re Piya) or modern/Street Bollywood (e.g. Mauja Mauja, Jalwa).
To make your event more personal they can also provide a dance sequence to a special song that you may request.